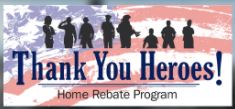 ATTENTION SAN DIEGO AREA FIRST TIME BUYERS!

Do not over pay for your first home! Take advantage of valuable government programs that help first time buyers. Register below for access to great deals in San Diego that qualify for these first time buyer programs. We will also send you free information about first time home buyer programs that may be right for you!



JUST LISTED: This is just one of the great deals for first time home buyers in San Diego! 3 Beds 1.5 Baths and fully upgraded! Register below to get home information.