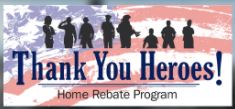 Become a Thank You Heroes Home Rebate Program Agent!

The Thank You Heroes Home Rebate Program Is Hiring! If you are a service minded individual and enjoy serving those who serve you we want you on our team!

Our program is growing and we need experienced Agents to join our team! No cold calls, no prospecting! Just appointments to help people in our program!
TO BEGIN THE PROCESS, SIMPLY CALL US AT 619-937-3660
Your inquiry will be held in the strictest confidence. Your present broker/employer will not be contacted. (Note: the last time we advertised an opening, we were flooded with applicants and immediately filled the position. Do Not procrastinate.