Thank You Heroes Cash For Your Home Guarantee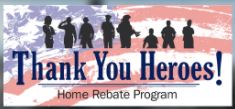 Buy One Of Our Homes And We Will
Buy Yours For Cash:


We Will Buy Your Home for CASH
at a Price Acceptable to YOU!
How to Avoid Getting Stuck with Two Homes

Get FREE Instant Access by completing the form on this page.

Every month, thousands of homeowners are faced with what we call the Real Estate Catch 22: the stressful dilemma of whether to buy first or sell first. If you buy before selling, you could run the risk of owning two homes. Just as bad, if you sell first, you could end up homeless.

The Thank You Heroes Home Rebate Program has created a unique Guaranteed Sale Program which solves this dilemma once you are enrolled. This program guarantees the sale of your present home before you take possession of your new one. If your home doesn't sell, the program will buy it from you for the previously agreed price ensuring that you never get caught in the Real Estate Catch 22.

To find out if you qualify for this unique program and how it can make your move less stressful, please fill out the form on this page and a Heroes Representative contact you to go over qualifications.