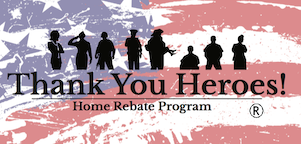 Your Referrals Help our Heroes!
We are on a mission to raise awareness for the Thank You Heroes program.

We have already given thousands back to those who serve our community and we are on a mission to give back thousands more!
Who do you know considering buying or selling a home you could refer to the Thank You Heroes program?
Not only will they benefit from our award winning service, but they will get all the savings, benefits, and guarantees that come with it!
It's easy to refer your friends, neighbors, associates or family members considering making a move. Simply complete the form on this page or you can call us directly at 619-937-3659
Thank you in advance for the referral!
SUBMIT A REFERRAL AND HELP US SERVE THOSE WHO SERVE