Thank You Heroes Seller Guarantee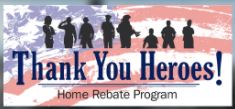 Your Home Sold!

GUARANTEED
Or The Thank You Heroes Program
Will Buy It!*


Here is what some of our past Heroes have to say about selling their homes with the Thank You Heroes Program:
"I want to say Thank You to the Thank You Heroes progra for selling my house. As you know, I interviewed 2 other realty firms before deciding on the Thank You Heroes Program I'm glad I chose them! While the others were good, they didn't compare to your presentation. When I decided to list the house for $420-425K,, you convinced me that it would sell for much higher than that. While I had my doubts, you & your team marketed my home in an extremely professional manner resulting in my house selling for $50,000 more than I expected. I would recommend you to anyone selling their home. Again, Thanks!!
"
John T.


"Dave and Colleen Moore recently served as Realtors for the sale of our home in Ocean Hills Country Club through the Thank You Heroes Home Rebate Program. Although we know that it's a beautiful home, we never in a million years thought we would or could get the amount that we ended up with. We had done some comparisons of similar home sales in the community before we put it on the market with this Amazing program. The final sales price was about $70,000 to $90,000 more than what we hoped we would get."
"The entire process with the Thank You Heroes Home Rebate Program was the most pleasant home resale transaction that we have ever experienced. In a 28 year Navy career, we have moved about 18 times and sold our homes 10 times, so we have experienced the good, the bad, and the ugly. The experience this time was "over the top" magnificent. In the second day on the market, we had two full price cash offers. Two days later, after a short open house, we experienced a bidding war, and the final offer was beyond all expectations. Success was achieved without dozens of people traipsing through the house day after day, and without us having to keep the house "show-ready" for weeks on end. I think of this program as our personal "miracle workers". -Tom and Shirley Billings

To find out home about the Thank You Heroes Home Rebate Program please contact us below or visit us at www.ThankYouHeroes.com


*exceptions apply please contact us for exact details