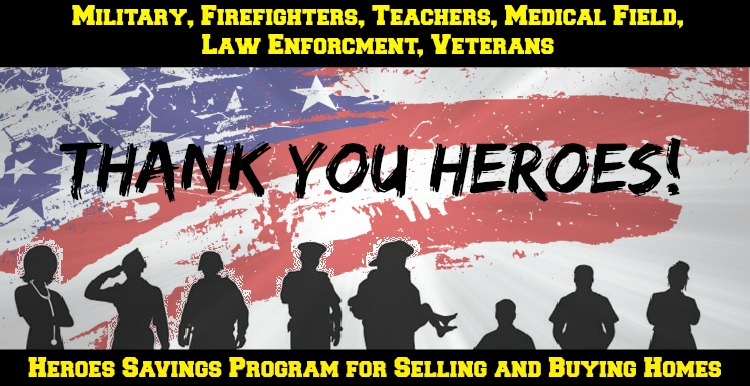 Attention active and retired military, teachers, law enforcement, medical professionals, firefighters, and clergy! The Thank You Heroes Program has already saved our clients thousands in the purchase or sale of their homes!
Buying a Home?
This program will get a minimum, 10% of the sellers commission back to you...cash! The program will also pay for some or even all of your closing costs! (Get up to $15,000 back to you cash!)
Selling a Home?
This program will give 20% of the commission back to you after the sale of your home!
Our heroes have used this money to pay off debt, remodel their new homes, set up college funds for their children, or purchase new furniture.
If you are interested in this program or want to refer a hero just give us a call at
619-937-3659
and we can help! This program is our specialty. Leave you information below and find out what you can qualify for! This is a free service for our Heroes. You are never obligated to purchase a home.

Congratulations
to Colonel Lee Jacobs and Lisa Jacobs on your stunning new home! It was an absolute honor to work with you!


Congratulations to our most resent heroes Giles and Rachel! Your new home is beautiful!
"It was a blessing working with the thank you heroes program"... See the touching story of one of our Heroes, Dominique Smalls.


"I want to share with you that the (thank you heroes team) are by far the best group of humans on this earth! They are not only kind and compassionate, they go above and beyond what is expected from any company in San Diego. If you have to look for a home or are looking to sell your home you cannot go wrong with this team. I love these people! God Bless you!
-Michelle Tapia (Teacher)
"The Thank You Heroes team was amazing! Other agency's were quick to dismissed me because my credit was not great. They took me under their wing and helped me get to where I needed to be. I get to go home shopping with them soon!" -Ileana, (Teacher)
"The agents at the thank you Heroes program were so knowledgeable. They helped set me up with my VA loan, clearly explained all my options and saved me a huge about of money. I almost went another direction and it would have cost me an extra $5,000 in closing costs. Aaron and the other reps make you feel like family and they got your back." Rick (Veteran)
Get Enrolled Today!



For

appointments

call 760-845-8525


(Open 10:00am-7:00pm)
Click Here to View the Site